Real Estate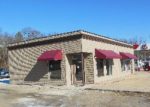 Short Description:
Experience counts! Established over 31 years ago, with a combined total of over 100 years of exerience. WE KNOW THE COUNTRY! Let us help you too!
Address:
333 W. Main, P.O. Box 979, Steelville, Missouri
65565
Short Description:
Real Estate sales & property management in the South-Central Region.
Address:
200 Cushing Rd., Steelville, Missouri
65565